As a successful entrepreneur or executive, you have likely achieved a lot in your life. But sometimes, even the most successful of us find ourselves overwhelmed or stuck in negative patterns. The good news is you have the power to transform your life as you experience it with the efficient and easy NEAT process.  In just four simple steps, you can notice, examine, attend, and transform your thoughts and reactions to create a more peaceful and fulfilling life.
Let's dive into NEAT.
N represents the action 'notice.'  Notice what is happening!  The first step to transforming your life is to become aware of your thoughts, beliefs, feelings, behaviors, and reactions.  If any of those are negative, you might want to consider changing it and that is solely and completely within your power.  Because you know what?  You are the boss of you!  If you don't change it, you are guaranteed to keep repeating the same undesirable experience.  So, step one is to notice:
When you experience a negative thought or emotion and if it's an emotion, notice if there is a thought that created the emotion
When you stumble on a limiting belief (an overused term I know but it really is the most descriptive)
If you are engaging in a behavior that is not producing the outcome you desire
Situations in which you overreact, which is responding more forcefully than is justified for the situation
One word of caution:  do NOT judge yourself!  The purpose of this process is not to compound negative emotions.  So, just notice it without self-judgment and with self-compassion and, oh by the way, congratulate yourself on taking action to level up your game!  Once you notice it, move on to the next step in the process.  
Next up is the E in NEAT which represents the action 'examine.'  Now that you've noticed your thought, belief, feeling, behavior, or reaction, take some time to examine it.  What triggered the emotion?  Why do you hold that thought or belief?  When did you adopt it?  Why did you react that way?  Be honest with yourself and try to identify what contributed to the situation.  What in YOU contributed to the situation (key point here).  After all, if you don't change it, you will continue to have the same experience and I'm guessing that if it's creating a negative outcome for you, you want to change it.  Examining it is the process by which you gain clarity about the situation.  Again, no judgment!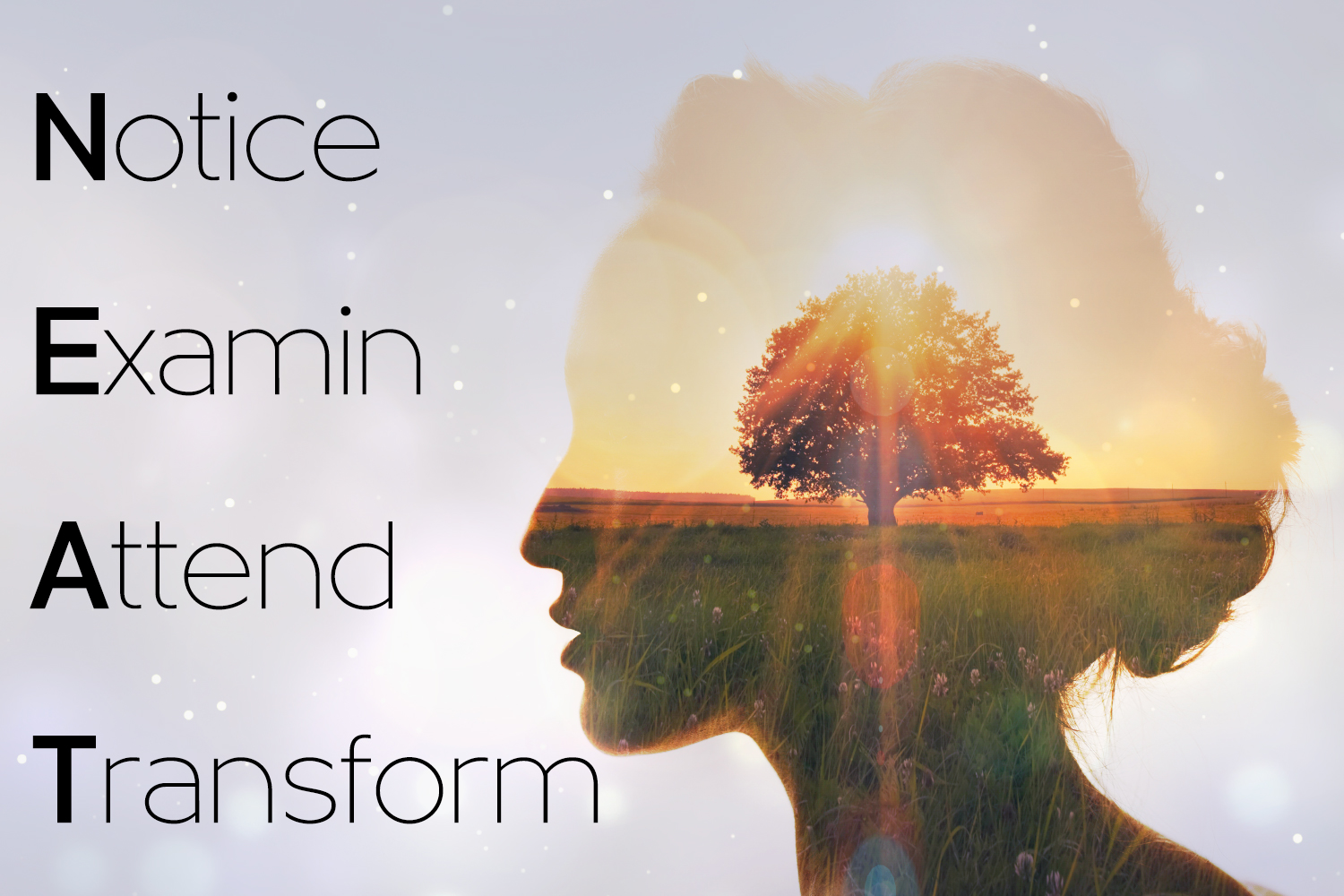 The A in NEAT represents the action 'attend.'  Now that you've noticed it and have at least some level of understanding of why it's happening in your life, attend to it by being present with it and applying your mind and energy to change it!  How?  I find that stress, dissatisfaction, and disquiet in our lives is created when our life is out of alignment with our personal values and deepest desires.  Determine what is out of alignment for you in that situation and redirect your attention to what will create alignment for you.  That is the space in which you will find a solution to help you move forward in a positive way.  This may involve setting a healthy boundary, changing a belief, seeking support, or taking whatever action you determine is necessary, big or small, to create the desired outcome in the long-term.
Next comes the T in NEAT which represents the action 'transform.'  Now it's time to put your solution into practice in your life consistently.  And by consistently, I mean consciously integrating the newly established pattern into your daily life without fail.  How?  Notice each time the situation arises and apply your solution.  And voila!  Soon it will become your new habit and transform your life and the lives of those around you!
Note that all of this can be done in real-time by simply pausing or excusing yourself from a situation if you can.  If you can't, then make a mental note, written note, or set aside time in your calendar to contemplate it later when you do have time for soulful reflection.  But some advice here:  make the time!  Otherwise, the negative cycle will continue as it isn't being attended to by you.  
Transforming your life isn't always easy, but with the NEAT formula, it's simple. By noticing, examining, attending to, and transforming your thoughts and emotions, you can create a more peaceful and fulfilling life. It's an easy process that you leverage time and time again in every aspect of your life!  Remember to be patient with yourself and to practice self-compassion along the way. With time and repetition, you will gain awareness that will transform your life in magical positive ways!
If you desire to go really deep, fully discover your truths, and begin living the life you know you are capable of living, click here to apply for my one-on-one program, Elevate Your Life!®